In 1944 there were close to 25,000 Jews in Oradea, going about their daily lives. They could have expected to stay in Oradea for the rest of their days and beyond.

In 2010 Jewish burial land was transferred to the local Council for other uses as it would no longer be needed by the few remaining Jews of Oradea.

How did these people disappear?

What did they do for Oradea?

Does their legacy exist today?
When and where did they go?

Did they go of their own free will?

Did people try to help them?
Do we remember these men, women and children of Oradea and how?

Why should we care?

Has it happened since?

Could it happen again?

How do we prevent prejudice and intolerance?
News
Link to selected items of News:
International day of remembrance
Today, on the anniversary of the liberation
of Auschwitz, we remember those who
suffered and perished in the Holocaust,
including the tens of thousands from Oradea
who were sent on forced labour or who were
deported to that death camp.
Asociatia Tikvah has created a short film
aimed as an educational resource for pupils,
"My Little Diary...The Diary of Eva Heyman".
The film is available in Romanian and
in English.
Go to our Facebook page to see the films.
27 January 2018
Update on activities
Our new focus of activities is explained on our
News page.

6 September 2017
Last letters
The Family Albums part of our website collects
memories of families who have lived in Oradea.
We have added a particularly poignant story of
two mothers writing to their children days before
they were taken to the ghetto.
Copies of the original letters can be read.
3 May 2017
Racial discrimination
On 21 March in 1960, 69 people were killed in
Sharpeville, South Africa, during a peaceful
demonstration to protest against the apartheid
system. Six years later the United Nations
designated the 21 March as the International Day
for the Elimination of Racial Discrimination.
21 Mar 2017
International Holocaust Remembrance Day
January 27 is the anniversary of the liberation of
Auschwitz-Birkenau by Soviet forces in 1945 and
is marked in many countries as International
Holocaust Remembrance Day.
Events in countries associated with the International
Holocaust Remembrance Alliance can be found here.
Resources for teachers to use on this day in schools
can be found on our educational website.
27 Jan 2017
Enthusiastic pupils explore identity
See more on Facebook.
2 Nov 2016
Launched in Baia Mare
The exhibition is available for viewing in Baia Mare
public library until 21 October following its launch on
5 Oct 2016
More pictures are available in News and on Facebook.
8 Oct 2016
Shortly on our way to Baia Mare
28 Sep 2016
Fourth year of tennis competition
The Lenke Ziszovits Popper Memorial tennis event was held
at the weekend for the fourth year in a row. It has now been
adopted as a national event by the Romanian Tennis Federation.
It is important to remind participants of the reason for the naming
of the event and Emilia Teszler explained the background to parents
of the young tennis players.
27 Aug 2016
Taking exhibitions to a summer camp
In a new approach we took selections of our exhibitions
to a summer camp.
7 Aug 2016
The importance of Fundamental Rights
The European Union Agency for Fundamental Rights (FRA) does
vitally important work in collecting and analysing data in the EU.
At this particular time of multiple challenges caused by migration,
increasing incidence of intolerance and the possible destabilising
effects of the UK withdrawal from the EU, their role is even
more important.
In our News section we provide a link to their analysis of priorities
in 2016 which are important for everyone concerned in ensuring
that human rights are respected.
29 Jun 2016
Presenting our work to an international audience
Today, our project manager, Maia Teszler gave a presentation
of our work in Asociatia Tikvah to delegates from 40 countries
attending the International Holocaust Remembrance Alliance
conference in Bucharest. The chairmanship of the IHRA rests
With Romania until March 2017.
Pictures of Maia at the event and the award by the President
of Romania to Professor Yehuda Bauer is on our News and Facebook.
24 May 2016/28 May 2016
Launching in Salonta on 25 May
We will opening the Anne Frank- a History for Today
exhibition in Salonta on 25 May (see our News for the
detail) in these beautiful surroundings.
21 May 2016
Anne Frank exhibition
Thanks to our major sponsor Claims Conference we
have been able to continue our programme of visits
to different regions of Romania with our Anne Frank
exhibition. In April 2016 we have been to Resita and
Hunedoara. More detail on our Facebook.
25 Apr 2016
Reaching young people
Our programme for reaching young people in
schools with our travelling exhibitions continues
and with visits to Sintandrei and a synagogue in Oradea
we have now reached 11 different locations. See our Facebook.
18 Apr 2016
Successful launch in Timisoara
The "Anne Frank A History for Today" exhibition
was launched on 9 March and will run until 29
March.
9 Mar 2016
Anne Frank exhibition in Timisoara
Tomorrow we launch the "Anne Frank A History for Today"
exhibition in Timisoara. It will be available for viewing for
the next month. See our Facebook for pictures of the event.
8 Mar 2016
Helping the Fundamental Rights Agency
Asociatia Tikvah was very pleased to be invited
to the Fundamental Rights Agency of the
European Union in Vienna to partake in an
important workshop last week. More information
in News.
29 Feb 2016
Reaching young people
Asociatia Tikvah has been supported by Joods
Humanitair Fonds and the Bernard Charitable
Trust to take its exhibitions to many schools and
other places where young people are present.
The first three school presentations can be seen
on our Facebook pages.
6 Feb 2016
International Holocaust Remembrance Day
Today, on the anniversary of the liberation of Auschwitz,
we remember those who suffered and perished in the
Holocaust, including the tens of thousands from Oradea
who were sent on forced labour or who were deported to
that death camp.
We are participating in a number of commemoration
events. Please refer to our News or Facebook for more
information.
27 Jan 2016
Two minorities: two histories
We have created more educational materials for teachers with
a view to encouraging an understanding amongst students of
the identity and history of the Roma and the Jews. The
importance of how stereotypes and prejudice can lead to
discrimination is also explored through students thinking
about their own identities.
More information is contained in our News section or we invite
readers to visit our new website for teachers (www.tikvahedu.ro).
We are grateful to the primary funder of this project (Joods
Humanitair Fonds) for all their support and encouragement
over many years.
13 Jan 2016
Lots more News
We have more coverage of the statue unveiling; a
learning experience in Copenhagen; the launch of two
books at the University of Oradea; and pupils from
Biharia visiting the memorial to the deported children.
28 Oct 2015
Today we unveil the statue
Today we will unveil the statue in the memory of the
Jewish children deported from Oradea during the
Holocaust in Northern Transylvania. It is sited in Balcescu
Park from where the trains left to Auschwitz.
More details in the next few days.
15 Oct 2015
Today we remember
On 9 October 1941 began the deportation of Jews from
Bessarabia and Bukovina to Transnistria under the regime
of Ion Antonescu. This commemoration for this event was
led in Bucharest by the President of Romania, Mr Klaus Iohannis.
See our News for further information.
9 Oct 2015
Anne Frank exhibition in Bucharest
Today we launched the "Anne Frank A History for Today"
exhibition in the National Library of Bucharest. It will be
available for viewing for the next month. See our Facebook
for pictures of the event.
21 Sep 2015
Third year of tennis competition
Remembering Lenke Ziszovits Popper the national
tennis champion deported to Auschwitz. More detail
in News.
27 Aug 2015
Memorial for the children – an update
You have been magnificent and we have reached
our target. Please see our News to check the
latest position.
1 July 2015/11 Aug 2015
Memorial for the children - an appeal
Although we have raised significant funds for
a memorial to the lost generation of Jewish
children we are still in need of the last few $ to
make it a reality. Please read our News and
see if you can help this final push.
1 June 2015
Presentations in Iasi and Simleu Silvaniei
It has been a particularly hectic time for the
Asociatia Tikvah team travelling hundreds of
kilometres in a few days to put on exhibitions
and presentations.
More details are on our Facebook.
24 May 2015
Today we remember Mauthausen
It was 70 years ago today that US troops entered
the concentration camp at Mauthausen. Lives of
liberators and the liberated were to be changed forever
on that day.
See our resources for schools.
5 May 2015
Anne Frank exhibition to Bistrita
We launch the Anne Frank exhibition in Bistrita on
Tuesday 21st April at Noon at the Bistrita Museum.
19 April 2015
Today we remember Bergen-Belsen
It was 70 years ago today that British troops entered
the concentration camp at Bergen-Belsen. Lives of
liberators and the liberated were to be changed forever
on that day.
To learn more about the events of that day refer to our News.
15 April 2015
A visit to Roşia
Asociatia Tikvah presented the educational resources created within
our "Voices of the Liberators" project to a group of pupils at the
Şcoala Gimnazială nr. 1 in Roşia (School Manager:
Mrs. Szilaghi Valentina).
More information on our Facebook.
31 March 2015
Successful exhibition launch in Brasov
We had a very successful exhibition launch in Brasov of the
"Anne Frank- A History for Today" exhibition. We will be posting
details and pictures of the event in the next couple of days
on our Facebook.
25 March 2015
EU initiative on Human Rights education
EU Education Ministers have vowed to increase education in
schools to "promote freedom of thought and expression, social
inclusion and respect for others, as well as to prevent and
tackle discrimination in all its forms".
15 March 2015
Brasov - the next destination
The magnificent synagogue in Brasov is the next destination
after Sibiu for the Anne Frank exhibition. See our Facebook
for details.
15 March 2015
Successful launch in Sibiu of Anne Frank exhibition
The Dutch Ambassador, Matthijs van Bonzel, together with
Silviu Bors, Manager of the ASTRA library, launch the Anne
Frank exhibition in Sibiu.
The Dutch Embassy are the generous sponsors of the
touring of our exhibition in 2015.
The exhibition will be open for viewing until 20 March.
2 March 2015
Our Anne Frank exhibition goes to Sibiu
23 February 2015
Touring with Voices of the Liberators
Thanks to support from the US Embassy in Bucharest our
project Voices of the Liberators has started to tour.
13 February 2015
Holocaust art
The event on 27 January also had a moving display
of Holocaust design created by the Liceul de Arte.
See the detail in News.
30 January 2015
Remembrance on 27 January 2015
The event on 27 January. More detail is in News
and on our Facebook.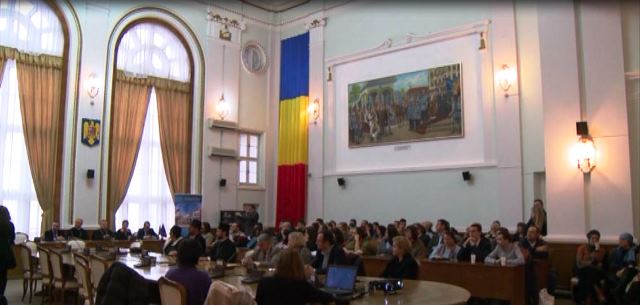 28/29 January 2015
Remembrance on 27 January 2015
Join us today.
27 January 2015
Remembrance on 27 January 2015
Our Remembrance resources in Romanian and English are
now available for review and download.
More detail in News.
22 January 2015
Remembrance on 27 January 2015
More information as to the programme and the attendees
at the event on 27 January was given to the Press.
More information can be found in our News section.
20 January 2015
Remembrance on 27 January 2015
In recognition of the forthcoming Remembrance date the
German Embassy in London invited Asociatia Tikvah to a
reception hosted by the Ambassador.
Projects
A selection of our projects:
Disability issues
Our latest project in 2017 seeks to raise awareness about a range of disability issues which are linked. We want to provide a better understanding of how propaganda can influence behaviour, by looking at how this was used by the Nazi regime, while attempting to eliminate people with disabilities, in pursuit of its concept of racial purity. We will be producing materials for schools which can be used in the context of the Holocaust, whilst also providing a better understanding of the nature of disability and how society currently seeks to provide protection.
At the same time, we also want to address more directly the barriers faced by those with disabilities in Romania today and to provide schools with materials that could be used in the citizenship/civil society part of the curriculum. We aim to create more empathy towards those who have such disabilities and to encourage government bodies at all levels to address barriers and provide more facilities.
All over the world the 27 January is the date chosen on which to remember the victims of the Holocaust. Although Romania has its own memorial date of 9 October it is appropriate in Northern Transylvania, in particular, to recall the 27th, the date Auschwitz was liberated. Asociatia Tikvah worked with partners in the UK and Canada for the 2014 commemoration and for 2015 we worked with organisations in the UK, the USA and Russia to produce commemoration materials that can be used in Romanian schools and elsewhere. We received committments from many institutions in Oradea (and Bihor more widely) to increase their own involvement in commemoration on 27 January 2015 and we assisted them in their efforts. In 2016, we still continued to commemorate the 27 January, but did it through taking our exhibitions to other locations in Northern Transylvania which were wishing to remember. In 2017, without any financial support we were forced to rely on social media to disseminate our support.
We wanted to have a title for the series of projects that we have undertaken where we have created travelling exhibitions for taking to schools (and community locations). We chose the overall title of Red Bicycle Projects as we explain below. All these projects have been funded by Joods Humanitair Fonds (from the Netherlands) and the Bernard Charitable Trust (from the UK).
Eva Heyman
Oradea 1931 - Auschwitz 1944
Eva Heyman loved her red bicycle and cried when it was confiscated by the police as one of the repressive measures against the Jewish population of Oradea. We have created an exhibition to be taken into schools and other public locations to show the dangers of prejudice and discrimination. This exhibition and an associated presentation is available to schools who contact us.
Lights in the Night
In our work in schools we have had many questions from pupils asking why the ghetto and deportations from Oradea (then Nagyvarad) were allowed to take place and why no-one tried to stop it. In fact, there were examples of help from the non-Jewish population, both Romanian and Hungarian, but these positive examples have been largely hidden to date or not made public enough.
This exhibition shows examples of rescuers in the Holocaust and is available to schools who contact us.
Shalom!
About Judaism and Jewish Life
Our work in schools identified that there was very little understanding about Jewish life and Judaism. Many pupils had never met a Jew. There was much confusion about the beliefs of Jews or the meaning of their rituals and way of life.
Our third itinerant exhibition aims to dispel myths and give a greater insight into what it means to be a Jew. Once again the exhibition is available to schools who contact us.
"Two minorities - two histories" was a project to produce resources which would prompt discussion about identity, stereotypes and discrimination whilst inviting students to consider how these factors have impacted upon the histories of the Roma and the Jews.
The package of resources includes Powerpoints, lesson plans and comprehensive background materials. All can be downloaded without charge from our website for teachers.
Through the generosity of Joods Humanitair Fonds and the Bernard Charitable Trust we have been enabled in 2016 to tour with our exhibitions, primarily to rural schools, but also to other locations where young people are gathered. We continue to spread the lessons of history and apply them to the world of today.
Anne Frank exhibition and Anne Frank/Eva Heyman timeline
In 2014 we launched our partnership with Anne Frank House in the Netherlands. This involved Asociatia Tikvah translating the "Anne Frank - A History for Today" exhibition into Romanian and then touring this famous exhibition in public venues across Transylvania.
Additionally, an electronic resource for schools consisting of a timeline which contrasts the short lives of Anne Frank and Eva Heyman was mafe available in 2015.
Anne Frank House generously provided the exhibition and Claims Conference from the United States covered the majority of the remaining costs to get the project off the ground. The Dutch Embassy in Bucharest then funded a continuation of the touring and were joined by the Bernard Charitable Trust from the UK and further funding by Claims Conference and Anne Frank House which enables us to continue throughout 2016.
Museum of the History of the Jews
The Primariei (Teleki) Street orthodox synagogue was built in 1928 and was the last synagogue built in Oradea. This synagogue has been used as a vegetable warehouse for many years. The year 2012 saw the start of efforts to restore the fabric of this beautiful building which, with further funding, may see its conversion into a Museum of the History of the Jews in Oradea and Bihor. Initial funding from the Cultural Fund of the US State Department has made the building watertight in 2013. Partnerships have been formed between the Jewish Community of Oradea and the Muzeul Tarii Crisurilor. Asociatia Tikvah has been invited to assist in the future development of the project and is pleased to do so. Eventually we will hope to provide educational and outreach support in the completed Museum, but all depends on sufficient funds being available to finalise the restoration of this beautiful synagogue.
We wished to create an appropriate memorial statue in Oradea in the image of Eva Heyman, as representative of all the Jewish children of Oradea who suffered or died due to the horrific events of 1944. This we achieved and the statue was unveiled in October 2015 and Eva is pictured below with the sculptor Flor Kent.
Oradea had once a vibrant and populous Jewish community. In "Family albums" we offer an opportunity, to descendants of families who once lived here, to remember those families, individually and collectively, by publishing photographs, documents and memories.
In many parts of the world the teaching of human rights, genocide and the Holocaust is part of the curriculum in schools. In Romania, it is optional. Asociatia Tikvah is helping teachers in schools through making available DVDs and lesson plans. Our first venture, with the invaluable support of the University of London, the United Nations and the Memorial Library of New York, has been to translate and make available the "Footprints" resource. Schools may contact us to find out how to access these resources.
Oradea had two ghettos in 1944 and there are many stories to be told of courage, sacrifice and cruelty related to those ghettos. It is important to learn from lessons of the past and research by Asociatia Tikvah is discovering and documenting events of those times.
Cemeteries are one fragment of historical evidence proving the past existence of the Jewish community in Oradea. They serve as information sources for art history, social history or family genealogy. Above all they are loving memorials. We want to create an electronic memorial to the Jews of Oradea, supplemented with an appropriate publication. Please help us if you can.
Human Rights through the Prism of the Holocaust
Linking the Holocaust to the developments in Human Rights since the end of World War II can lead to a greater understanding of what can occur if basic rights of citizens are ignored. We have been pleased to be develop an extra-curricular series of lesson plans for schools in partnership with a major High School in Oradea. This series of lessons can be replicated in other schools. Please contact us if you are interested.