In 1944 there were close to 25,000 Jews in Oradea, going about their daily lives. They could have expected to stay in Oradea for the rest of their days and beyond.

In 2010 Jewish burial land was transferred to the local Council for other uses as it would no longer be needed by the few remaining Jews of Oradea.

How did these people disappear?

What did they do for Oradea?

Does their legacy exist today?
When and where did they go?

Did they go of their own free will?

Did people try to help them?
Do we remember these men, women and children of Oradea and how?

Why should we care?

Has it happened since?

Could it happen again?

How do we prevent prejudice and intolerance?
News
Link to selected items of News:
Our Anne Frank exhibition goes to Sibiu
23 February 2015
Touring with Voices of the Liberators
Thanks to support from the US Embassy in Bucharest our
project Voices of the Liberators has started to tour.
13 February 2015
Holocaust art
The event on 27 January also had a moving display
of Holocaust design created by the Liceul de Arte.
See the detail in News.
30 January 2015
Remembrance on 27 January 2015
The event on 27 January. More detail is in News
and on our Facebook.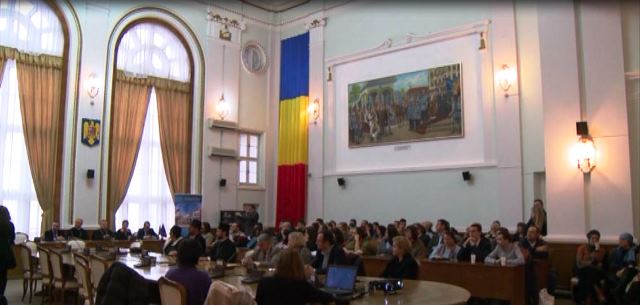 28/29 January 2015
Remembrance on 27 January 2015
Join us today.
27 January 2015
Remembrance on 27 January 2015
Our Remembrance resources in Romanian and English are
now available for review and download.
More detail in News.
22 January 2015
Remembrance on 27 January 2015
More information as to the programme and the attendees
at the event on 27 January was given to the Press.
More information can be found in our News section.
20 January 2015
Remembrance on 27 January 2015
In recognition of the forthcoming Remembrance date the
German Embassy in London invited Asociatia Tikvah to a
reception hosted by the Ambassador.
18 January 2015
Remembrance on 27 January 2015
Our Remembrance event on 27 January is co-hosted with
the British Embassy. Regular updates of the programme
for the 70th anniversary of the liberation of Auschwitz will
be appearing on our News and Facebook as the date
approaches.
Shalom! on tour
Many schools have been challenged to learn more about
Judaism and Jewish life and to have a number of myths
dispelled.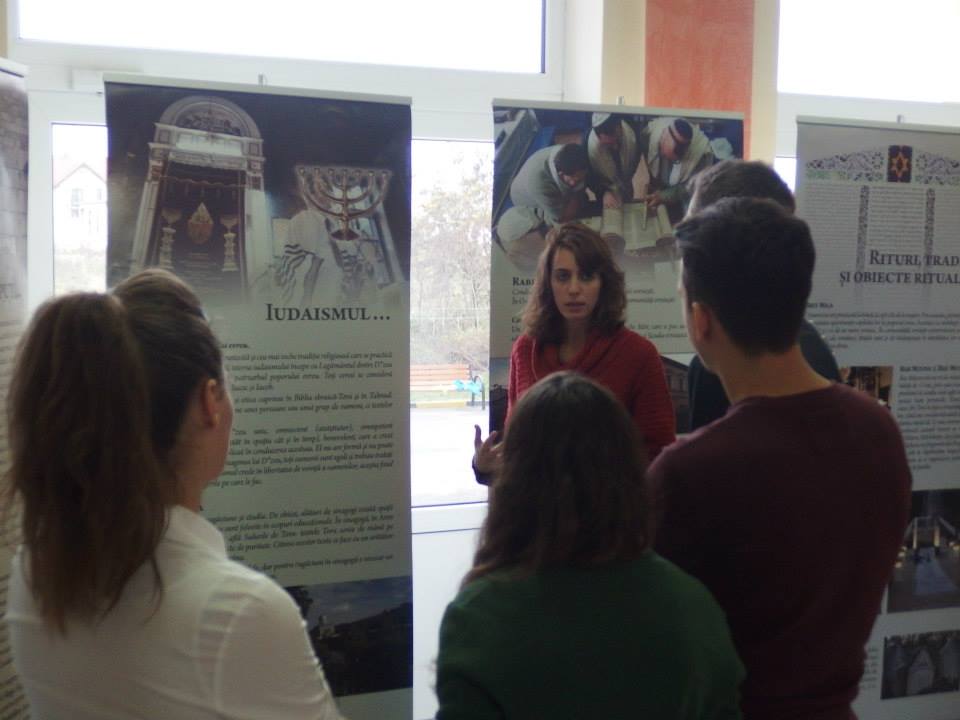 See our News and Facebook for more pictures.
21 November 2014
Cluj opening
See our News and Facebook for more pictures.
13 October 2014
Anne Frank exhibition moves to Cluj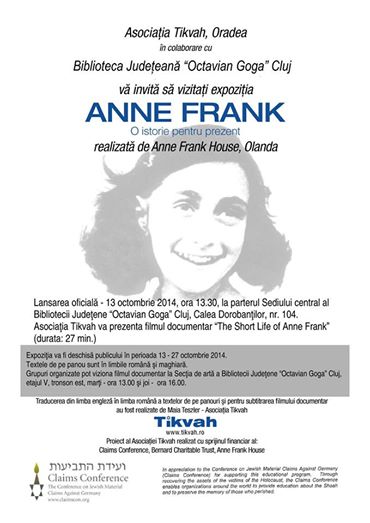 8 October 2014
Jewish life at the Philarmonic - launch
2 October 2014
Jewish life at the Philarmonic
18 September 2014
17 September 2014
Maia Teszler acted as Workshop Facilitator at the
Roma Genocide Remembrance Initiative in Krakow.
3 August 2014
Go to our Facebook for details.
23 June 2014
Commemorations at Şimleu Silvaniei and Oradea
Go to our Facebook for pictures of the commemoration events.
3 June 2014
Remembrance at Şimleu Silvaniei - a personal dimension
Roza Chereches
28 May 2014
Another busy week at home and abroad
We took part in discussions in London about forthcoming IHRA
programmes and met with the official Romanian delegation.
Closer to home we are launching today the Anne Frank
exhibition in Simleu Silvaniei.
Both of these events are covered in our News and Facebook.
19 May 2014
A week of activity at Universities
As part of the 70th anniversary of the deportations of the Jews
from Oradea, Asociatia Tikvah gave one presentation and one
lecture at two Universities.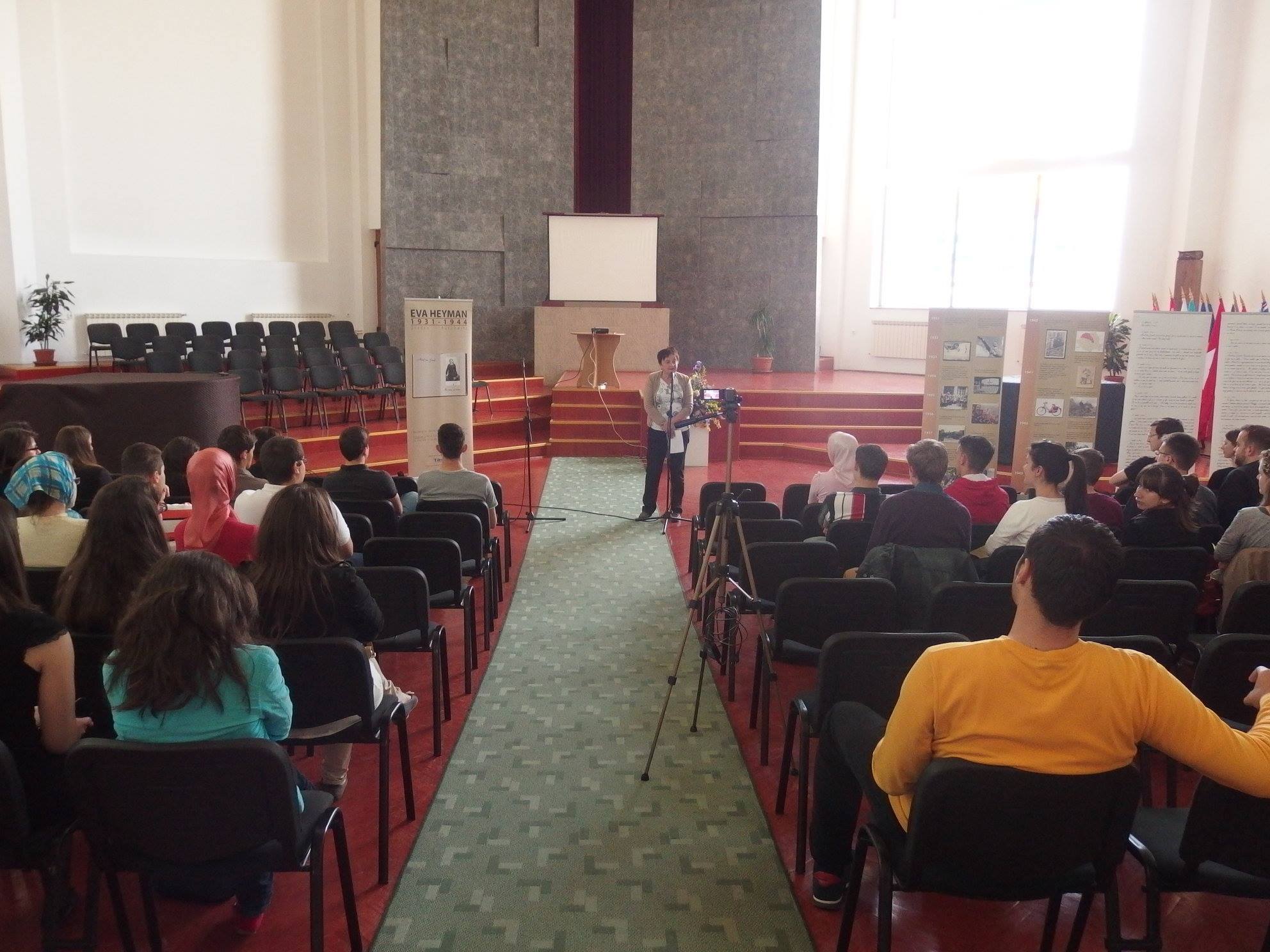 More information is in our News section and on our Facebook.
12 May 2014
The "Anne Frank - A History for Today" travelling exhibition
was launched yesterday at the "I.S. Bădescu" County Library
in Zalău.
6 May 2014
It was 70 years ago today that the first Jews were
transferred to the Oradea ghetto.
The inevitable consequences are detailed in 1944 in Oradea.
3 May 2014
Anne Frank exhibition to go to Zalau
On 5 May the Anne Frank exhibition "Anne Frank
- A History for Today" opens in Zalau.
28 April 2014
In our News section we report on meetings with
Professor Dan Stone
and the Ruhama Foundation.
We also direct visitors to our Facebook pages for news of
further schools involved in our travelling exhibition of Hedy
and her Memory Book and the good response from schools to
the Anne Frank exhibition at the "Gheorghe Şincai" County
Library.
24 April 2014
Anne Frank exhibition launched
There was standing room only at the "Gheorghe Şincai" County
Library, Oradea earlier today when the travelling exhibition
"Anne Frank - A History for Today" was launched by
Matthijs van Bonzel the Dutch Ambassador to Romania.
2 April 2014
Dutch Ambassador to open Anne Frank exhibition
The travelling exhibition "Anne Frank - A History for Today" will be
launched at the "Gheorghe Şincai" County Library, Oradea, on
2 April, at 11:00, in the presence of the Dutch Ambassador to
Romania, Matthijs van Bonzel.
21 Mar 2014
Hedy's story on tour - continued
A further five schools have been visited by our touring exhibition. A
full picture gallery can be seen by following the link.
7 Mar 2014
We have started our touring of the story of Hedy from Oradea and her
Memory Book to many parts of our region. We appreciated the effort
from the students of Luncsoara who made us welcome with gifts of
self-created art:
28 Feb 2014
Hedy's story inspires artist
Hedy and her Memory Book inspired a young artist to create a
drawing which was runner-up in a national competition in the UK.
© Hannah Martin and HMDT
17 Feb 2014
It was the 13th birthday of Eva Heyman 70 years ago today. The
first entry in her published diary also appears on this date.
13 Feb 2014
Co-operation with Anne Frank House
Asociatia Tikvah is pleased to announce that it has entered into a
partnership arrangement with Anne Frank House from Amsterdam.
6 Feb 2014
We want to thank those people that made our Remembrance
event so special for us. More pictures.
3 Feb 2014
The first pictures of our Holocaust Remembrance Day event
are in our News section. Follow the link above.
28 Jan 2014
Today, on the anniversary of the liberation of Auschwitz, we
remember those who suffered and perished in the Holocaust,
including over 25,000 people who were deported from Oradea
to that death camp.
Follow the link to see what is happening in Oradea today.
27 Jan 2014
IHRA Chair and schools creations
Asociatia Tikvah has received a personal video from the Chair of
the International Holocaust Remembrance Alliance from Canada.
It has also received three Memory books from school students from
Oradea to pass on to Holocaust survivor Hedy in Canada. Many more
exhibits will be seen at our commemoration event on 27 January.
24 Jan 2014
Invitation to our commemoration event
Asociatia Tikvah's commemoration event will take place on 27 January
and you are invited to participate. Amongst the many honoured
guests will be Her Excellency the Canadian Ambassador to Romania
and senior officials from the Ministry of National Education.
19 Jan 2014
We have now prepared further materials which can be used by
schools for commemoration events on 27 January 2014 connected
to the International Holocaust Remembrance Day. Various resources
from Hedy and her Memory Book can be downloaded for free.
Go to News or Remembrance resources to get your copies.
8 Jan 2014
Preparing for 27 January commemoration
Now is the time to prepare for commemoration events on
27 January. Do have a look at the materials we are preparing
to help you do that.
29 Dec 2013
An innovative way of explaining Human Rights.
11 Dec 2013
Remembering 27 January and international co-operation
Asociatia Tikvah is working in partnership with organisations
in the UK and Canada. Oradea is being promoted by us in both
those countries. Deportations of the Jewish population to Auschwitz
took place in Oradea and it is the liberation of Auschwitz that is
recognised internationally on 27 January.
28 Nov 2013
Learning from European museums
Asociatia Tikvah gathers information and contacts that could
benefit the Muzeul Tarii Crisurilor for the development of the
Museum of the History of the Jews in Oradea and Bihor.
22 Nov 2013
Our new Facebook page is carrying a reminder of Kristallnacht - 75 years ago.
9 Nov 2013
3, 8 and 21 Nov 2013
Scott Masters receives Canadian Award
Asociatia Tikvah's partner in Canada, history teacher Scott
Masters, was honoured by Canada's Minister for Multiculturalism
as he received the Award for Excellence in Holocaust Education.
19 Oct 2013
The national day of Holocaust remembrance was marked in the
Onisifor Ghibu High School by presentations by pupils and prize
giving by Asociatia Tikvah.
19 Oct 2013
Danish Ambassador launches Asociatia Tikvah exhibition
A range of eminent local speakers were present on 4 October to launch
the exhibition "Lights in the Night". His Excellency Michael Sternberg,
The Danish Ambassador praised the work of Asociatia Tikvah.
6 Oct 2013
Asociatia Tikvah were guests of the Tom Lantos Institute in Budapest
to discuss issues of anti-semitism and discrimination in Europe. The
Hungarian Deputy Prime Minister gave a powerful speech.
On 28 September as part of our Human Rights project in partnership
with the Onisifor Ghibu High School we showed the award-winning film
"David" which tells the story of Daud, an 11 year-old religious Muslim
boy, growing up in Brooklyn, New York.
6 Oct 2013
On 4 October in Oradea the Asociatia Tikvah exhibition "Lights
in the Night" will be launched in the presence of His Excellency
Michael Sternberg, the Danish Ambassador for Romania.
26 Sept 2013
House of Commons launch of commemoration materials
In an event at the UK Houses of Parliament hosted by a UK
parliamentarian and attended by Jewish survivors of Nazi
persecution, collaborative work between Asociatia Tikvah
and the Holocaust Memorial Day Trust was launched.
16 Sept 2013
Holocaust commemoration project
Asociatia Tikvah is very pleased to be able to start a new
initiative to increase awareness of and participation in
Holocaust commemoration in Northern Transylvania.
8 Sept 2013
Projects
A selection of our projects:
All over the world the 27 January is the date chosen on which to remember the victims of the Holocaust. Although Romania has its own memorial date of 9 October it is appropriate in Northern Transylvania, in particular, to recall the 27th, the date Auschwitz was liberated. Asociatia Tikvah worked with partners in the UK and Canada for the 2014 commemoration and for 2015 we are working with organisations in the UK, the USA and Russia to produce commemoration materials that can be used in Romanian schools and elsewhere. We have received committments from many institutions in Oradea (and Bihor more widely) to increase their own involvement in commemoration on 27 January 2015 and we will be assisting them in their efforts.
We wanted to have a title for the series of projects that we have undertaken where we have created travelling exhibitions for taking to schools (and community locations). We chose the overall title of Red Bicycle Projects as we explain below. All these projects have been funded by Joods Humanitair Fonds (from the Netherlands) and the Bernard Charitable Trust (from the UK).
Eva Heyman
Oradea 1931 - Auschwitz 1944
Eva Heyman loved her red bicycle and cried when it was confiscated by the police as one of the repressive measures against the Jewish population of Oradea. We have created an exhibition to be taken into schools and other public locations to show the dangers of prejudice and discrimination. This exhibition and an associated presentation is available to schools who contact us.
Lights in the Night
In our work in schools we have had many questions from pupils asking why the ghetto and deportations from Oradea (then Nagyvarad) were allowed to take place and why no-one tried to stop it. In fact, there were examples of help from the non-Jewish population, both Romanian and Hungarian, but these positive examples have been largely hidden to date or not made public enough.
This exhibition shows examples of rescuers in the Holocaust and is available to schools who contact us.
Shalom!
About Judaism and Jewish Life
Our work in schools identified that there was very little understanding about Jewish life and Judaism. Many pupils had never met a Jew. There was much confusion about the beliefs of Jews or the meaning of their rituals and way of life.
Our third itinerant exhibition aims to dispel myths and give a greater insight into what it means to be a Jew. Once again the exhibition is available to schools who contact us.
Anne Frank exhibition and Anne Frank/Eva Heyman timeline
In 2014 we launched our partnership with Anne Frank House in the Netherlands. This involved Asociatia Tikvah translating the "Anne Frank - A History for Today" exhibition into Romanian and then touring this famous exhibition in public venues across Transylvania.
Additionally, an electronic resource for schools consisting of a timeline which contrasts the short lives of Anne Frank and Eva Heyman will be available in 2015.
Anne Frank House generously provided the exhibition and Claims Conference from the United States covered the majority of the remaining costs.
Museum of the History of the Jews
The Primariei (Teleki) Street orthodox synagogue was built in 1928 and was the last synagogue built in Oradea. This synagogue has been used as a vegetable warehouse for many years. The year 2012 saw the start of efforts to restore the fabric of this beautiful building which, with further funding, may see its conversion into a Museum of the History of the Jews in Oradea and Bihor. Initial funding from the Cultural Fund of the US State Department has made the building watertight in 2013. Partnerships have been formed between the Jewish Community of Oradea and the Muzeul Tarii Crisurilor. Asociatia Tikvah has been invited to assist in the future development of the project and is pleased to do so. Eventually we will hope to provide educational and outreach support in the completed Museum.
We wish to create an appropriate memorial statue in Oradea in the image of Eva Heyman, as representative of all the Jewish children of Oradea who suffered or died due to the horrific events of 1944.
Oradea had once a vibrant and populous Jewish community. In "Family albums" we offer an opportunity, to descendants of families who once lived here, to remember those families, individually and collectively, by publishing photographs, documents and memories.
In many parts of the world the teaching of human rights, genocide and the Holocaust is part of the curriculum in schools. In Romania, it is optional. Asociatia Tikvah is helping teachers in schools through making available DVDs and lesson plans. Our first venture, with the invaluable support of the University of London, the United Nations and the Memorial Library of New York, has been to translate and make available the "Footprints" resource. Schools may contact us to find out how to access these resources.
Oradea had two ghettos in 1944 and there are many stories to be told of courage, sacrifice and cruelty related to those ghettos. It is important to learn from lessons of the past and research by Asociatia Tikvah is discovering and documenting events of those times.
Cemeteries are one fragment of historical evidence proving the past existence of the Jewish community in Oradea. They serve as information sources for art history, social history or family genealogy. Above all they are loving memorials. We want to create an electronic memorial to the Jews of Oradea, supplemented with an appropriate publication. Please help us if you can.
Human Rights through the Prism of the Holocaust
Linking the Holocaust to the developments in Human Rights since the end of World War II can lead to a greater understanding of what can occur if basic rights of citizens are ignored. We have been pleased to be develop an extra-curricular series of lesson plans for schools in partnership with a major High School in Oradea. This series of lessons can be replicated in other schools. Please contact us if you are interested.